Kultur i Danmark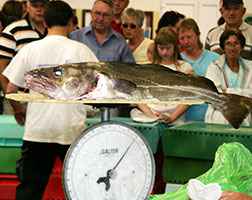 Oplev en anderledes fiskeauktion i Hvide Sande
Kunne du tænke dig at vide mere om lokale events og traditioner, så har du her en lille oversigt.
Fiskeauktion
Om sommeren afholdes der i auktionshallen på havnen i Hvide Sande fiskeauktioner, hvor du kan opleve, hvordan man tidligere solgte den friskfangede fisk på auktion. I dag udspiller fiskeauktionerne sig via internettet, men i Hvide Sande vil man ikke helt give afkald på den traditionelle fiskeauktion. Ved fiskeauktionen har alle besøgende mulighed for at byde på frisk fisk i familievenlige portioner.
Auktionen har en helt speciel charme, idet auktionarius taler en skøn blanding af dansk og tysk. Her er altid højt humør og et hæsblæsende tempo så hele familien er sikret en sjov oplevelse. Skulle I være heldige under auktionen, står en række pensionerede fiskere parat til for en billig penge at rense og flå fiskene.
Under fiskeauktionen kan I også købe friskstegte fiskefrikadeller, fiskefiletter og drikkevarer til fornuftige priser.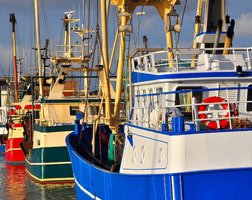 Fiskeriet i Hvide Sande har altid fascineret Esmarks feriegæster
Hvide Sande Åben Havn
Hvordan ser en moderne fiskekutter du, hvor tidligt står en fisker op og hvor længe er man egentlig på havet ad gangen? Dette og meget mere kan du finde ud af til Hvide Sande Åben Havn.
Gå om bord på enfiskekutter og få en snak med skipper og besætning. Eller besøg beddingen med sin specielle stemning på en guidet tur og se til, hvordan moderne fiskekuttere bliver til på de to skibsværfter (Hvide Sande Skibs- og Bådebyggeri og Vestværftet).
Derudover er der mulighed for at få en rundtur på Hvide Sande Røgeri, hvor du kan se, hvordan fiskene bliver bearbejdet og røget. Eller besøge Langsand Ålefarm og se, hvordan ålene opdrættes.
Kig forbi Blåtårn slusens og havnens førerhus og hør, hvad personalet kan fortælle om slusens og havnens daglige drift, og få et kig indenfor på redningsstationen ved siden af, hvor redningsbesætningen viser deres udstyr frem.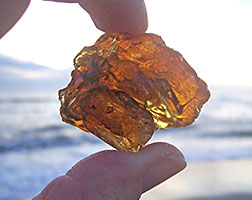 Led efter Versterhavets guld
Ravsafari
Tag på ravsafari i efteråret på stranden i Søndervig. Safarien ledes af Anna Maxen, som har stor erfaring med rav fra hendes smykkefremstilling. Rav findes i mange størrelser og forskellige gule farvetoner og efter 30 Millioner år i havet bliver det skyllet op på stranden, hvor du med lidt held og hjælp fra en erfaren ravsamler kan finde de små gyldne klumper.
Rav er harpiks fra vesteuropæiske nåletræer, som under istiden blev bragt med isen til Danmark. Rav er i flere hundrede år blevet brugt til smykker og engang blev det endda anvendt som betalingsmiddel.
Men at finde rav er ikke let, for det er ikke nogen glinsende sten, som man opdager med det blotte øje. Ravet gemmer sig i sten og tang på stranden, så man må have øjnene på stilke, for at finde det. Derfor er glæden også så stor, når du endelig er heldig at finde et lille gyldent stykker en unik skat, som altid vil bringe glæde.
www.sondervig.dk
Fiskens dag
Hvert år fejres Fiskens Dag i Danmark. På denne dag, kan danskerne både opleve og spise fisk. I auktionshallen på havnen i Hvide Sande kan du f.eks. nyde friskstegte fiskefrikadeller og fiskefiletter, mens musikken og krabbevæddeløbet sørger for underholdningen. Du har også mulighed for at få den indkøbte friske fisk flået og rengjort af en pensioneret fisker for en billig penge. Derudover er der en række aktiviteter for både stor og lille og samtlige butikker i byen venter på at byde jer velkommen.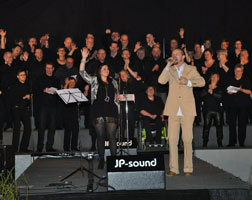 Oplev en sand gospelfestival i Hvide Sande
Kagekonkurrence på kagens dag
Tilbringer du efterårsferien langs den danske vestkyst, så bør du og din familie ikke gå glip af den store kagekonkurrence, som afholdes onsdag i uge 42 på Fiskeriets Hus ved slusen i Hvide Sande. På kagens dag kan I nemlig besøge museets Cafeteria, hvor de lokale lader deres bagværk vurdere og præmiere. Til en højst rimelig pris kan I ikke bare besigtige museet, men også få lov at smage de ca. 30 forskellige kager og lagkager sammen med eftermiddagskaffen. Så er eftermiddagshyggen i hus!
Gospelfestival i Hvide Sande
Siden 2010 afholdes hvert år i februar en Gospelfestival i Hvide Sande, hvor over 100 deltagere øver livsglad sang, for om søndagen at give en koncert for offentligheden. Festivalen ledes af en professionel gospelinstruktør og der deltager hvert år også en kendt solist. Elsker du gospel og planlægger du en afslappende ferie i februar, så giv dig selv en helt speciel koncertoplevelse.
www.hvidesandegospelfestival.dk
Hvide Sande Masterclass
Besøger du os i efteråret, må du ikke forpasse chancen for at opleve en Masterclass-koncert. Hvert år i september mødes violinister, cellister, pianister og kammermusik-ensembler fra hele verden i Hvide Sande for at spille klassisk musik under ledelse af kompetente professorer. Hvide Sande Masterclass er en international event, som hele ugen er åben for tilhørere. Billetter til de forskellige koncerter kan købes i de lokale banker og hos turistinformationen. Du kan læse mere om Hvide Sande Masterclass på www.hvidesande.dk
Musikfestival på Bork Havn
Er du mere til festivaller, så er Bork Festival sikkert meget mere dig end gospel eller klassisk musik. Bork Festival startede i 1979 og finder sted hvert år i starten af august. I årenes løb er musikfestivalen blevet besøgt af mange store navne såvel danske som internationale og der er altid noget for enhver smag. Koncerterne afholdes i store telte, hvorfor en smule regn ikke skal afholde jer fra at komme af sted og få et indblik i vestjysk festivalkultur. Der er billetter til hele festivalen, men også dagskort, hvis det blot er nogle enkelte koncerter, du vil ind og opleve.
www.borkfestival.dk